There are so many possibilities using this keto cake recipe as a base for delicious lower-carb, grain-free desserts! Whether it's shortcake, cupcakes or layer cake, this is now my go-to for any kind of vanilla cake recipe!
I try to limit how much almond flour goes into a our treats, knowing that too much is bad for nutrient absorption. As much as possible I try to incorporate coconut flour which is much better for the digestion. I have played around enough with the mixture of almond flour and coconut flour to know that they both compliment each other when used together, and they create a finished cake that doesn't have the overpowering flavor of either of these flours alone. And unlike traditional cakes, it's moisty deliciousness just gets better in the fridge with time!
If you want to try our this vanilla cake recipe, the vanilla berry cake recipe below makes for a treat when fresh berries are in season!
Cake Ingredients
2 eggs
1/2 cup butter (melted)
1/2 cup yogurt (plain grass fed)
1/2 cup water
1 tbsp baking powder
1 tbsp vanilla
1/2 cup Lakanto Monkfruit
1 cup Almond Flour Blanched
1/4 cup Organic Coconut Flour
Directions
Pre-heat oven 350 F. Bakes for 20-25 minutes.
In a medium size bowl mix wet ingredients with a hand held mixer. Then add the dry ingredients and blend together. This batter will fit perfectly into two 8 inch pie pans. This cake will rise up nicely so if you want it all in one pan, make sure to use a taller cake pan and don't fill it to the rim. You will want to let this cake cool and firm up fully before removing from pan. It will help to put it in the fridge for a couple of hours before removing from the pan.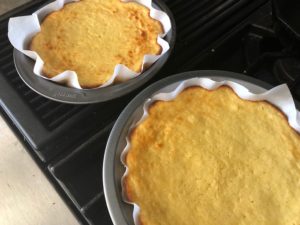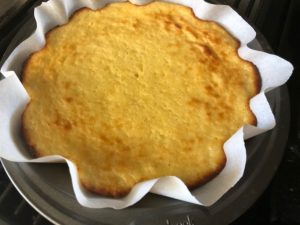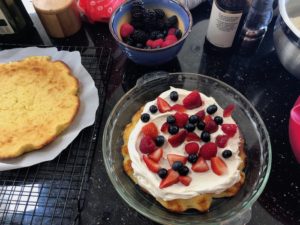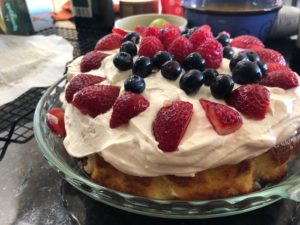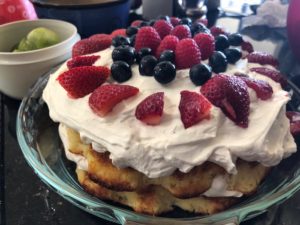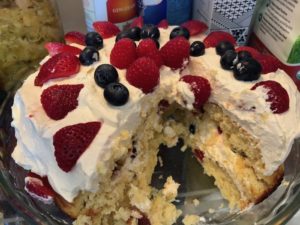 A whole day later and look how beautiful. The taste is even better then it looks.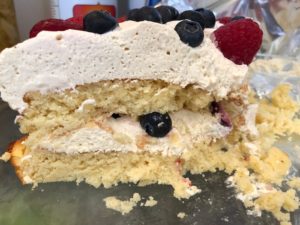 Whipped Cream Ingredients
2 cups heavy cream
1 tbsp vanilla
1/4 cup Lakanto Monkfruit 2:1 Powder Sugar Substitute
2 tbsp cream cheese
Directions
Whip the heavy cream with vanilla. After a minute or two, add the sweetener and cream cheese. Continuing whipping until firm. The cream cheese helps this whip hold shape so there is no need to worry about soggy cake a day later. If you keep it refrigerated, it will last 3-4 days.