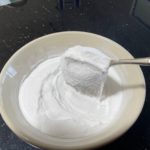 Print Recipe
KetoPig Sweetener
Try this sweetener mix for all your baking needs, or as a perfect low carb substitute for sweetening your morning coffee. Compared to sugar alcohols it's healthier for your gut (no bloating) and doesn't have that weird aftertaste. It is something I've found to be delicious and have been doing now for the last year. It's a true one-to-one substitution if you like things really sweet.
Instructions
Just add the Inulin, TMG, Allulose powder and mix.

Double or triple recipe if needed.
Notes
It's just 3 parts inulin, 1 part TMG and 1 part allulose powder. If you're wanting some for your coffee add 1 part collagen and a tsp salt. If you're looking for an awesome set of canisters to hold the powdered sugar in the stainless steel are the best!
Tip: The powdered allulose and inulin are very fine and act like powdered sugar so keeping this in mind when handling it. Standing in a cloud of powder isn't fun.