Who wants ice cream? How about amazing keto ice cream?
We love ice cream, and the low carb diet is obviously a challenge in this area. We have tried so many store-bought pints of blandness, and our freezer has a sad little pile of half eaten containers that promised way more than they delivered.
But tucked away in the corner of our kitchen cabinets sat this strange little appliance that my husband kept looking at with sad dopey eyes. It was an electric ice cream maker that I simply knew I could do something keto with.
And wow, was I right.
The recipe below will make about 4-5 cups of delicious low carb ice cream. It is full of healthy fat, so it doesn't make many of the compromises that most of the store-bought "healthy" ice creams try to do, and you can really taste the difference. Experiment with different flavorings or additions. If you want chocolate I added 1/4 cup cocoa powder and it's perfect!
I have found that you can make this ice cream to your liking with grass fed dairy, macadamia nut milk or canned coconut cream. I have used all of these milks and they all work wonderfully and deliciously. The macadamia milk is less creamy, but still delicious. If you choose coconut cream, put it in fridge to help it separate and use only the solid part (save the water for your smoothies!)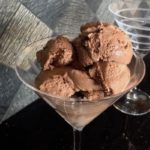 Print Recipe
keto ice cream
Instructions
Make sure your ice cream mixer's chiller bowl is thoroughly frozen before setting up. This thing really needs time to get cold, and chilling it overnight is recommended. All ingredients are grass fed and pasture raised. If you use only the best ingredients you can find, you will definitely taste the difference.

Separate the eggs and put the yokes in a bowl with the sweetener and salt and whip thoroughly until creamy. If you're doing chocolate, add it the mixture at this point.

In a saucepan over medium heat, heat the heavy cream and the milk of your choosing until it just starts to boil then immediately take off heat. Be very careful not to scorch. Slowly add the hot milk to the egg mixture, a cup at a time, while whipping continuously and keeping the mixture creamy and smooth. Your goal here is to get the eggs hot enough to cook them into a custard without allowing the yolk mixture to coagulate. If you get yellow chunks of cooked egg yolk, you've added the milk too fast (and unfortunately, that's unfixable…trust me.) After blending about 3 cups in you'll  be safe to just dump the milk in. Whip thoroughly.

Add the vanilla or any flavorings. Mix it all over a bowl of ice water to help cool it down. Store in fridge for about two hours before adding it to the ice cream maker. When everything is very cold, put your ice cream mixer together and add the chilled mixture. Our mixer takes 20-30 minutes to get to a consistency similar to soft-serve ice cream. This just starts to get good creamy texture and when you finish the process in your freezer those ice crystals will be perfect. If the mixture starts to get too hard, stop the machine before it is working too hard.

Transfer the mixture to a freezer safe bowl or container and finish chilling it in your freezer for two to three hours. The ice cream will setup and have a consistency that will put your favorite Häagen-Dazs to shame!
Notes
Tip: You'll be in a hurry to get everything all the way to your ice cream bowl, and anything you can do to get things colder faster will help! Pre-chill the container you'll use for the final freeze while your ice cream maker is churning the mix.
Also if you wanted to use my no sugar sweetener just sub in 1 cup for this recipe!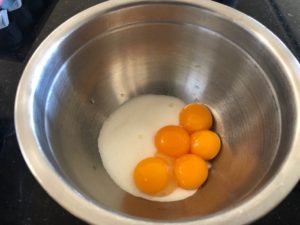 If you're doing vanilla ice cream then mix just the yokes and sugar and salt.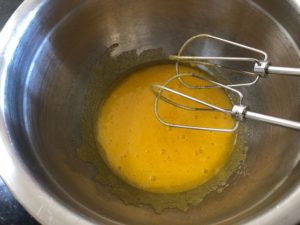 Will first look yellow, blend until turns more white.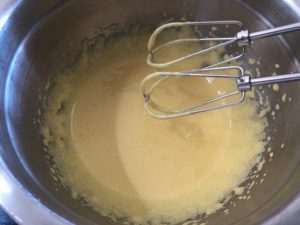 If you're adding chocolate then also add it here with sugar salt and yokes.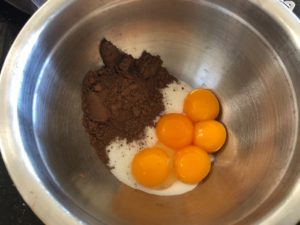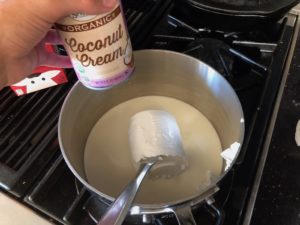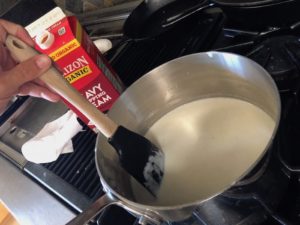 After hot liquid is added to the yoke mixture, I stirred it over ice water to help cool it down faster. Put the mixture in the fridge for a few hours to get it ready to freeze in the mixer.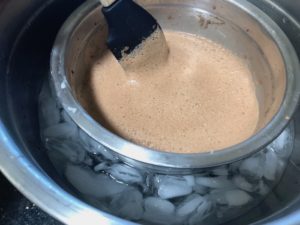 Once chilled run it in your ice cream maker for about thirty minutes.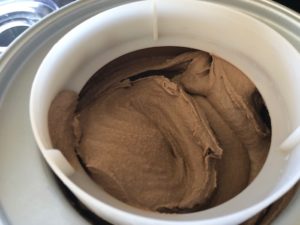 This is what it should look like. Now it's ready for some time in the freezer to get really solid. You probably want to transfer it into another container at this point and clean your ice cream mixer so you're ready for another batch!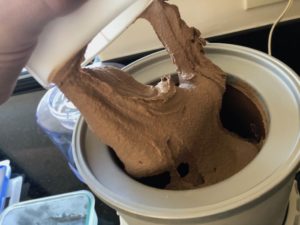 Soft serve keto ice cream!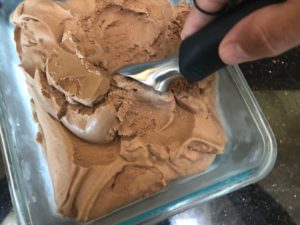 Freeze for 2-3 hours.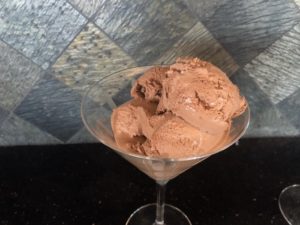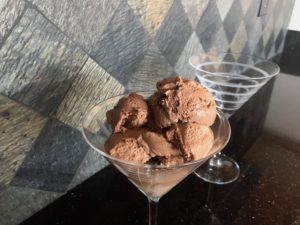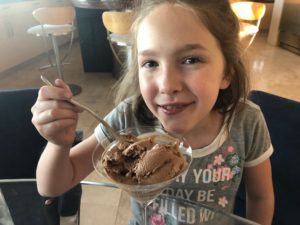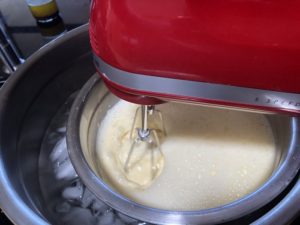 Never mind the onion and broccoli lol