Want a delicious sweetened condensed milk without all that sugar? I just love it for desserts because it really brings out that wow factor for the recipe. It is so easy to make and is most definitely better than any original not keto friendly recipes out there. I believe that the ingredients used in any recipe should be of good quality if you want it to taste amazing! I'm also unsure if this is true about Land O Lakes being no carb?! Let me know what you think in the comments below.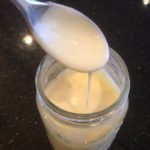 Print Recipe
Sweetened Condensed Milk
Instructions
You will want to use a big wide pan so it condenses easily. Add all ingredients and bring to a boil for a couple minutes while stirring. Turn heat to low and simmer uncovered stirring occasionally.

If you are doing the full recipe it will take about 45 minutes to an hour, but the recipe can be cut in half and will condense much faster.

You can speed up the process if you turn up the heat stirring it constantly making sure to not scorch it. It will thicken up as it cools and even be firm after a day in the fridge. The possibilities are endless with this recipe. Chocolate fudge, brownies, cookies, pies and more!