This is the best keto bread for sandwiches, cupcakes, muffins, danishes and anything that you enjoy as bread! There is absolutely no flours in this recipe and that makes it my all time favorite. The fact that it has the best mouth feel and taste is just a bonus. I found this recipe while watching a documentary called "The Magic Pill." If you haven't seen it yet, it's one I encourage you find on NetFlix! You can use this recipe as a base for any and all breads/baked goods. It seems to brown and rise up nicely. Add sweeteners to make delicious desserts… 1/2 cup Lakanto Monkfruit is a great start for cupcakes, pound cake or a bundt cake.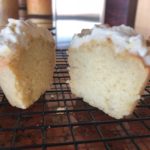 Print Recipe
Keto Fat Bread
Instructions
Directions
Pre-heat oven to 350 degrees F. You will need a food processor for this recipe.

Start by blending the shredded coconut in a Food Processor until it is smooth like butter. It will take about ten minutes. If it looks dry something went wrong.

Next add the macadamia nuts to the food processor and continue blending. Once the mixture looks smooth add in one egg at a time giving each egg time to blend in.

Finish by adding in the remaining ingredients and process until combined.

Bake for 25-30 minutes until the top starts to brown slightly, then let cool for 5-10 minutes before taking out of baking pan.

I use the my smallest bread pan (roughly 8x4 inches), which is slightly smaller than a traditional loaf size but still solves those sandwich cravings!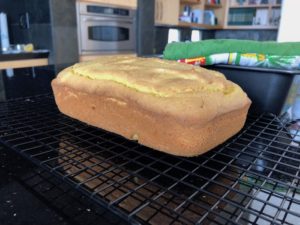 What the coconut should look like.