Thanksgiving stuffing (or dressing depending on where you're from) is a must in our home for the holidays. Keto breads make this dish possible and just as delicious as the real thing. This recipe is based on how much turkey dripping/gravy you have. It's up to you how much stuffing you want, so adjust measurements with that in mind. I love the texture of having two different breads. The keto no-corn bread has a rough texture while the keto low carb bread is more soft. It's also pretty and tastes more like the real thing.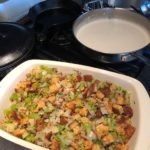 Print Recipe
Thanksgiving stuffing Keto
Ingredients
What you need
1

pan Keto no-corn bread

Keto No CornBread

1

loaf Keto low-carb bread

Keto Loaf Bread

10

oz

Turkey breakfast sausage

4-5

Celery Stalks

1

Onion Chopped

24

Herbs and Seasonings

Bragg's Brand (as much as desired)

Turkey drippings

as much as desired
Instructions
Directions
Make the two different breads ahead of time (one or two days before) so it's not a rush when Thanksgiving comes. Cut the bread into approximately one inch cubes and put in the baking dish you'll use.

Leave this dish out on the counter with cloth over it for the bread to dry. The day of Thanksgiving, lightly saute the onions and celery in a pan.

Add the sausage and finish cooking until barely brown. In the baking dish were you have the bread add the veggies and meat.

Toss gently without breaking up the bread, then add a generous amount turkey drippings/gravy (your choice) and put in the oven at 350 F. covered with foil for 20 minutes, then remove the foil and continue baking for a further ten minutes if desired for a crispy top.