I have made many mistakes with cooking keto and more times than not it always comes out being delicious. I have made keto cornbread and not on purpose. This is another one of those delicious mistakes that I just can't help but to share with you. If you are missing cornbread on this diet than this is the recipe for you.
In this recipe the oat fiber and using the iron skillet is what gives it the texture you need for cornbread. The cheese and coconut flour is what gives more of the flavor. I believe if you wanted to sweeten it up you could add sweetener but remember the coconut flour has a hint of sweetness on it's own.
Let me know what you think in the comments below.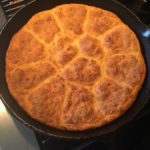 Print Recipe
Keto No Cornbread
Instructions
Turn oven on to 400 F. Bake for 15-20 minutes or until golden brown.

Start by mixing all the dry ingredients together and set aside.

Take a microwave safe bowl and heat the cream cheese and mozzarella on thirty second intervals, mixing until warm but not hot.

Add the eggs and mix well. Combine the dry ingredients with the cheese mixture. Mix it up and pour in a iron skillet or in a baking dish.

It's ok if the shredded cheese isn't completely melted.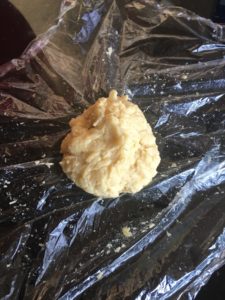 I wanted to show how mistakes can taste wonderful too and these are photos of what I thought would make great rolls. I was deliciously wrong. Save time by not balling them up first and just pour it in. 🙂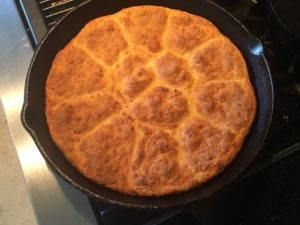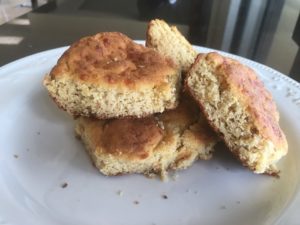 This last photo is from the next day. I took them out of the fridge to show more of what they look like. I would keep them stored in the fridge.