This one-bowl keto bread recipe is so easy and quick! There are also no gums in this recipe which is important to me because of the harmful effects they can have on your gut. This low carb bread turned out wonderfully and my kids loved it!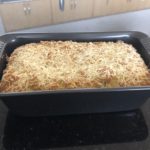 Print Recipe
Best Low Carb Bread
Instructions
Bake at 350F for 45-50 minutes

Mix all the wet ingredients then add in the dry and simply blend with a hand mixer. The batter will look very thick. I topped mine with parmesan cheese, or try something else creative, or just go naked! You can add spices to this recipe to complement your main course, or if you're thinking more about dessert, you can add sweetener and cinnamon to make a tasty treat. Have fun with this!

If you use only almond flour, the loaf will burn unless you lower the temperature and increase the baking time. We try to keep the amount of almond flour we consume at a lower level. Too much almond flour interferes with nutrient absorption, that's why this recipe has a mix of coconut and almond flours as a base. Besides its nutritional benefit, we love the taste the coconut flour adds!

But you can also do too much of a good thing. If you make this recipe with only coconut flour the result would be a coconut brick, not a tasty loaf.