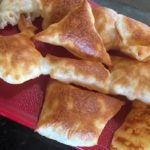 Print Recipe
Two Ingredient Keto Puffs
This recipe is so versatile that it really makes it fun to cook and bake. I know you are wondering is this really all it takes?! I'm here to say, yes! This is all you need to make a variety of things.
Instructions
Put the 3 tbsp coconut flour in a pan along with the mozzarella cheese and stir constantly over medium heat until forms a dough. You'll need parchment paper for these.

Than roll it out cut it up or fill it up and boom you're having deliciousness for breakfast, lunch or dinner! You can bake these at 350F for about 10 minutes or you can fry them up and I have even microwaved them in the conventional setting.


The syrup I'm using is called Vitafiber and is perfect for dipping. I make it with maple extract making it taste like maple syrup. Click to see the recipe for this flavored maple syrup.

If you're filling them with a bunch of stuff like cheese, olives, onions sauce, meat or eggs. The cook time will be longer, more like 20 minutes at 350F.

These are so delicious however you decide to have them.

Also make keto corn dogs with this same dough.