In my four years on the ketogenic diet, I've really struggled to find a substitute for a traditional cake that fits many of the recipe requirements our family has adopted on our journey. That means no grains and no gums, and as few carbs as possible, all wrapped up in something that is as close as possible to a traditional bakery treat.
Wheat flour has so many negatives to it apart from the sheer number of carbohydrates and it's astronomical glycemic load. But my experiments with almond flour, most people's go-to substitute for wheat, have consistently been too dense and often gritty. My exploration into alternative flours has yielded so many delicious dishes made with combinations of cassava and coconut flours, and I knew I was within striking distance of something amazing.
And by amazing, I mean a chocolate Swiss cake roll. I can't keep my husband out of it.
I hope you'll give it a try and let me know what you think in the comments!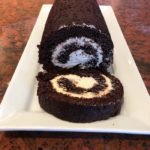 Print Recipe
Keto Swiss Roll
This low carb Swiss roll cake is super easy to make and has perfect texture! I'm so excited about this recipe because it doesn't taste gritty or "eggy" with only 4 eggs and no grains, no almond flour and no gums! If your weakness has "Little Debbie" or "Hostess" stamped all over it, this reduced carb substitute will have you snacking (nearly) guilt free.
Ingredients
What you need for wet ingredients
What you need for the dry ingredients
What you need for the cream filling
Instructions
You'll need a large pan 10x16 or larger. A baking sheet with raised sides works perfectly.

Whisk all the wet ingredients first and set a side.

In another bowl, combine the dry ingredients and blend thoroughly. the it to the liquid mixture.

Add the dry ingredients to the wet ingredients, mixing slowly until consistent like a thick cake batter.

Spread the batter in your pan. You do not need to spread it to the sides, only enough to have it look evenly flat. It will spread the rest of the way on its own when it gets hot.

Place in the oven to bake. It also doesn't need long time to cook because it's spread thinner then normal cake. If you're making a regular cake in a 8x10 or a 8in round pan with this recipe, I would bake it a little longer, so add 5-10 minutes. Keeping a watchful eye so that you don't burn it.

You can check it making sure it's done when a tooth pick comes out clean and you'll be able to smell that it's done too. Let it cool for about an hour.

While the cake is cooling, make the cream filling. Whip the heavy cream, sweetener and vanilla first. After you get that good and smooth you can add in the heavy cream and continue to whip it with a blender until it resembles cream frosting or I like to call it mousse. Yum!

When your cake is room temp, frost it with all that delicious cream! Take the sides of the parchment paper and start to roll it up using the paper. You shouldn't have to touch the cake at all. When you have it rolled it up, leave it in the paper and put it in the fridge for at least an hour before slicing.