I love a good meat loaf. Ever since starting keto, I have been able to enjoy more of what meat loaf has to offer, like all that delicious grass fed meat! However, when you normally make meat loaf you use a ton of bread crumbs to give it that tender texture. I'm so excited to share my low carb, grain-free recipe with all of you. This moist meat loaf that is full of flavor will make your mouth water and having your whole family going back for seconds.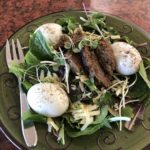 Print Recipe
KetoPig's Meat Loaf
Ingredients
What you need for the bread crumbs
What you need for the meat
Instructions
Combine all the dry ingredients in a bowl and set aside.

In another bowl add the eggs, worcestershire and mustard. Blend thoroughly with a fork

.


Add the meat to the egg mixture and with a spoon mash it together.

Add the dry ingredients and mix until combined

Press the mixture firmly into a regular size loaf pan, then place in the oven to bake for xxx minutes.