Who here loves pizza?! If you have made fathead dough then you know it's very satisfying. I have made so many variations of this dough so many times that I know what works and where it can go wrong.
I have found that adding another egg and shifting the mix towards adding in parmesan cheese and using a bit less mozzarella cheese helps the dough firm up like real pizza! I have always been a fan of holding my pizza with my bare hands and so it has been my mission to make this pizza hold up without having a plate or fork to help me eat it.
So load this pizza up with all your favorite toppings and don't wait for it to completely cool before digging in. Enjoy this hot delicious dish right out the oven ready for you to grab like the pizza we're used to!
What you need
For the dough
3 eggs
5 tbsp cream cheese
1 and 1/2 cups mozzarella cheese
1 cup parmesan cheese
5 tbsp  Coconut Flour
3/4 cup Almond Flour Blanched
1 tsp garlic powder
1 tsp onion powder
1 tsp Italian seasonings
salt and pepper to taste
Directions
Pre-heat oven to 350 degrees.
Put the cream cheese and mozzarella cheese in a microwave safe bowl and heat on 15-30 sec intervals, stirring in between, until melted. Add the parmesan and mix well. Add the eggs one at a time, stirring in between. Finally, add the flours, seasonings, salt and pepper. Empty the dough onto a large baking sheet. Before you start to flatten out the dough, put some water in that same bowl so you can get your finger tips wet. This will help push the pizza where you want it to go without it sticking to your hands. Works like a charm every time.
This crust will bake for about 15 minutes first. In the meantime prepare and get all your topping ready to put on the pizza and then put it back in the oven on broil or high heat for 3-7 minutes to crisp up the toppings!
NOTE:  The crust is amazing if you use full moisture mozzarella and NOT the part skim/low moisture one.
Toppings
As much as you want or as little as you want it's all optional!
Tomato sauce of your choosing
1 cup mozzarella cheese
1/2 cup chedder cheese
1/2 cup parmesan cheese
Peperoni
Fresh onions
Fresh garlic
Fresh basil
Black olives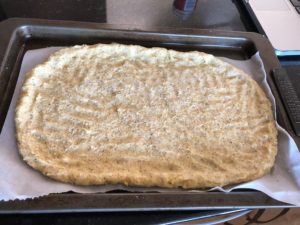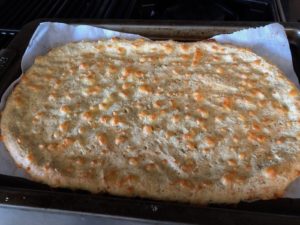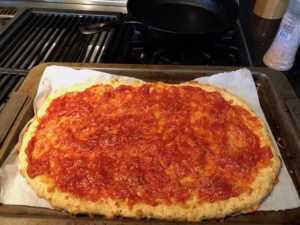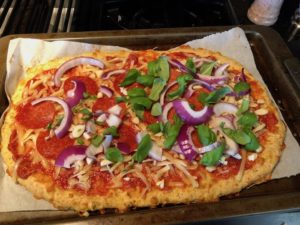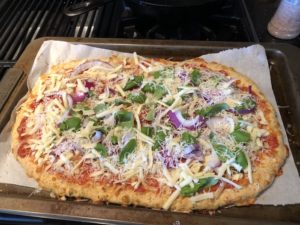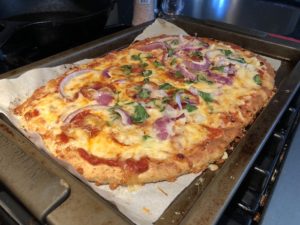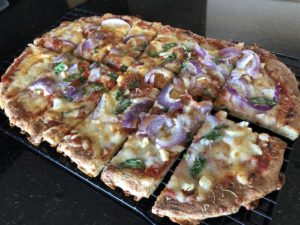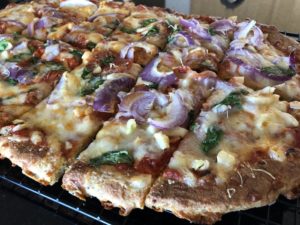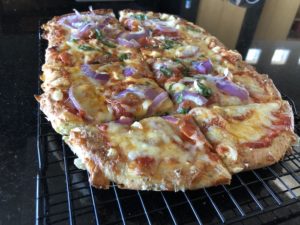 Note: The coconut flour helps in so many ways. Not only is it better for your digestion and it helps cut down all those almonds you are trying to not have but it helps this pizza cook better and helps it not burn like almond flour alone. I have tried just coconut flour alone and as long as you put enough spices in the dough you wont notice the natural sweetness of the coconut and it is really good.
If  you want to try, use 2/3 cup coconut flour