Traditional Kung Pao Chicken is delicious, but it has problems for those of us trying to eat a healthy keto diet.
The rice is obviously a big no-no, but with a little practice your cauliflower rice will be practically indistinguishable from regular grain rice in this bowl of spicy deliciousness. However, another less obvious problem lurking here is peanuts… Despite what you might think, peanuts are not actually nuts and aren't a great ingredient in a keto dish. Peanuts are actually a legume, and they have carbohydrates just like beans. So for this keto variation on kung pao, I substitute healthy fat-rich macadamia nuts! A big bonus about macadamia nuts is that they actually stay crunchy and do not get soggy like the peanuts do after a day in the fridge.
In this recipe I use a bit of arrowroot starch and, yes, it's higher carb but it's healthier for your gut biome. You could use xantham gum or gaur gum that's 0 carbs but I don't recommend it. If you're consistently consuming the gums they will act as a sticky substance and gum things up in your intestines. Arrowroot reacts instead as a resistant starch so your intestinal bacteria use it for food. You would have to consume a lot of it for it to have a bad glycemic effect. If you are counting carbs then just be mindful of this and you'll be fine. I do not count my veggie carbs so this may give you a different carb count if you do count your veggies.
The carb count may also be different depending on what ingredients you're using. I calculate 29-37 carbs depending on how much macadamia nuts you want to use. This recipe should give you 8-10 big servings. Remember it's 2 pounds of chicken. I'm cooking for a family of four  and we love leftovers. Keeping all that in mind each serving should only be around 3-5 carbs not including veggie carbs! Not bad at all and so delicious with so much flavor!!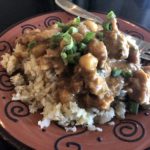 Print Recipe
Keto Kung Pao Chicken
Ingredients
Prep your rice before doing anything else and have it ready to go before starting the chicken.
Prepare Cauliflower Rice
1

Head cauliflower riced

1

Onion Chopped

2

Tbsp

Bone broth

Salt and pepper to taste
Instructions
Butter or bacon fat to sauté onions in. Add in the riced cauliflower, broth and turn heat to low so that you can focus on the chicken, once chicken is almost done turn heat up to medium high and should take 10-15 minutes depending how big your cauliflower was. Cauliflower rice cooks so fast.
Prepare Chicken and Sauce
First step: In a medium size bowl, combine chicken pieces with the whipped up egg white and 1 tbsp arrowroot. Toss and set aside.

Second step: In another bowl, blend the sriracha with coconut aminos, sherry, vinegar, broth, sesame oil and 1 tsp arrowroot. Set sauce aside.

Third step: Heat the 3-4 tbsp oil in a wok or large frying pan over medium high heat. Add the chicken and stir-fry until it separates and turns white, about 10-15 minutes. Remove from wok and set aside. Fry nuts, maybe 3 minutes, then remove and set aside.

Fourth step: Stir-fry scallions, garlic and hot pepper if you like it spicy. After a minute add in the chicken and stir-fry for another couple minutes before adding in the sauce, heat through until thickened. Add nuts, then stir to mix and pour over your cauliflower rice!