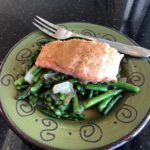 Print Recipe
Keto Crust Salmon
So easy and so delicious! I took my favorite dried spices to make this easy crusted salmon.
Instructions
Pre-heat oven at 400 f.
On the stove over medium heat put your butter in an iron skillet and melt it before adding the salmon.

Add the all spices evenly on the salmon.

Take the melted butter from the pan and spoon over the salmon completely covering it.

Bake in the oven for approx. 15 minutes. I used a piece of fish that was exactly .75 pounds so it was almost a pound.

This salmon is delicious on a salad or with asparagus!
Notes
Make sure to completely cover the salmon with the melted butter so the dry seasonings don't burn in the oven.