Perfect for snack time!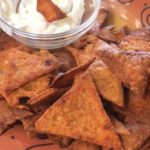 Print Recipe
Keto Doritos
Instructions
Bake at 350F for 10 minutes or until brown

Mix all of the seasonings with the almond flour then put in a pan and mix with the cheeses on medium low until it forms a dough. Roll it out as thin as you like it and the time will vary depending on how thin you have it.