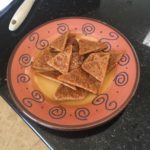 Print Recipe
Keto Bbq Chips
Instructions
Bake for 9-20 minutes at 350F

Put all ingredients in a pot over medium heat and stir until forms a dough. Roll it out as thin as you want, the thicker it is the more it will be like flat bread, which isn't bad either. I wasn't sure if it would melt as it baked so I left room around them just to make sure and as you can see they were fine, so put them as close as you can to fit more on.

If you want it even more crispy broil make sure to keep an eye on it! I have yet to try frying them, and not sure if that would work,  just remember the thinner they are the faster they cook!