This keto dish is so good you'll want to double up the recipe so that you have enough for leftovers! These low carb meatballs are perfect for snacking, on the go or on top of most any one of your meals you decide to have for the day. We enjoy having them over the top of salads, or crunchy cole slaw or, of course, cauliflower rice!
The paleo and low carb "bread crumbs" base I'm using here is perfect for meatloaf or a meat pie! I love the keto sauce in this recipe and it pairs perfectly with these keto meatballs!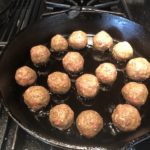 Print Recipe
Keto Meatballs
Instructions
Combine the egg and the other liquid ingredients, mixing thoroughly before adding the dry ingredients. Add the beef and with your hands mix it up and begin to make balls, big or small it's up to you.

They will shrink slightly as you cook them, so we typically size them about an inch and a half in size. I cook them in an iron skillet over medium high heat, turning them every minute or two.

Once browned, remove them and set aside. There should be enough fat left in the pan to use for the sauce but if you think you need more add that leftover bacon fat you've been saving for something tasty.

Over medium high heat, sprinkle your arrowroot starch letting the fat soak it up. Whisk in the broth and heavy cream.

Add your cheese of choice and keep whisking until thick. Add your meat balls and let cook for 5-10 minutes more. I've made this with many different cheeses such as cheddar and gouda, and they're all delicious, but the best was smoked mozzarella.