If you're like me, you came to the keto world with a terrible carb addiction and every meal was bread. Sandwich bread, pizza crust, or even just my terrible tempting nemesis… Toast. Like you I'm sure, I tried every keto-friendly bread recipe I could find. So many of these look like fluffy loaves of bread, but they all we're missing something in either the taste or texture departments, sometimes both. Or worse, their main constituent ingredient was whipped eggs, and the result was basically an omelette loaf.
The good news after trying so many recipes, I found one recipe that was almost the one… It was just missing a final ingredient to give it everything you need for mouth watering keto french toast, sandwiches and so much more. It's become a staple part of our keto diet here and I know when you give it a try you'll find baking in your oven regularly too! The magic ingredient is sour cream. It gives your bread a smooth texture, kicks the taste up a notch in complexity and keeps the texture from being crumbly. The whole loaf of bread comes out to 12 grams of carbohydrates, that's lower than 1 slice of store bought bread.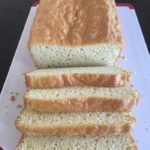 Print Recipe
Amazing Keto Bread
That's how you eat your french toast and lose weight too!
Instructions
Directions
Separate the eggs and whip up the whites with the cream of tarter and set aside.


Then add all your dry ingredients to your egg yolks and all other wet ingredients and mix.


Add that mix to your egg whites and blend together.


Pour your mixture in your bread pan and bake @ 350F for 50-55 minutes and check with toothpick.
Notes
My bread pan was to big 9x5x3 but it still came out great so don't worry how big your pan is.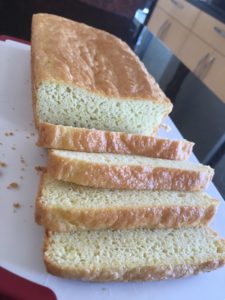 I wanted to note that in this recipe I used blanched almonds.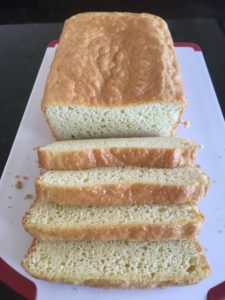 Pictures below are to show what it looks like to use a smaller bread pan and I used the same recipe!