I had a lot of fun trying this out and it works great both ways. I did find that making the dough separately helped it taste more like bread and a thick crust bread but both ways are really good! If you're thinking this sounds like a lot of work, it is. But is so worth it if you love thick crust pizza this is for you! I mixed both doughs because I knew doubling the fat head dough would be to much refined carbs, so having the cauliflower dough is a nice touch and a great way to get in more fiber.
The two doughs compliment each other in such a way you wouldn't expect. Deep dish pizza has always been our favorite pizza and I'm excited that we still get to have it!
Don't forget to poke holes with a fork so it doesn't puff up:) Also to help it not stick I used some flax seed meal and spread it all on the bottom pan like you would corn meal.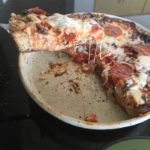 Print Recipe
Keto Deep Dish
Ingredients
Cauliflower Dough
1

Head

Cauliflower

1

Egg

1

Cup

Parmesan
Instructions
Preheat your oven to 425F.
For The Cauliflower Dough
Put the cauliflower through the food processor then heat it in the microwave for 2.5 minutes. Dump it out on your cheese cloth or thin dish towel and let cool while you start the fat head dough. You will drain and wring out all that water from the cauliflower once it cools! Then add in your egg and parmesan and mix and set aside.
Keto Pig Pizza Dough
Heat mozzarella and cream cheese in a microwave safe bowl 30 second intervals stirring until melted. Add in the parmesan and Italian spices, salt and pepper, garlic and onion powder and mix it up.

Add in the eggs one at a time stirring in between. Add in both coconut flour and almond flour mixing all the ingredients well.

Finally combine BOTH doughs together!

When you're done, you'll have one big pizza dough that's perfect for a deep dish style pizza. Crust will cook for 20-25 minutes.

Take out and add all the toppings that your heart desires and put it back in for about 15-20 minutes at the same temperature.