In the last 2 years my all time favorite food has been Indian food.
Chicken Tikki Masala!!
I have come across some delicious recipes and I thought I would give it my own little twist. Let me know what you think in the comments below.
Chicken Marinade
2 pounds chicken  thighs
1 cup plain yogurt with no added sugar (I used this)
4 garlic cloves
1 tbsp fresh ginger
2 tsp grama masala
1 tsp salt
Do this step first so that it can marinate in fridge while you prep everything else! Have the rice and all the veggies prepared before you start frying the chicken. Trust me this will make your life easier.
Fry the chicken in the gee on high (don't throw away any juices) then once mostly cooked take out of the pan and put back in the marinade bowl and set aside. Turn heat down to medium and saute the onions in that same pan and then add the garlic and other spices, cook for a minute then add tomato sauce and cook for about 10-15 minutes stirring frequently. Once it looks a bit orange then add the cream in and mix well. Add the meat and all juices back in to that and cook for another 15-20 minutes on medium-low heat. While that's simmering cook the rice, the rice won't take long at all, maybe 10-15 minutes.
For the sauce
2 medium onions (save some for rice)
4 garlic cloves
2 bay leaves
1 tbsp fresh ginger
3 tsp turmeric powder
2 tsp ground coriander
2 tsp ground cumin
2 tsp garam masala
1 tsp ground red chili powder
1 and 1/2 cups tomato sauce
1 cup heavy cream (I used coconut cream)
For the rice
2-3 heaping tbsp of gee
some onions
1 green pepper (blanched and cut up)
1 red pepper (blanched and cut up)
1 big head of cauliflower (riced)
Salt and pepper
Some gee for frying, use only a little at a time when frying because it will soak it all up and you don't want a soggy naan/pita.
1/2 cup coconut flour
2 tbsp (8 grams) psyillium husk (don't omit this, this is the ingredient that holds everything together!)
1/2 tsp baking powder
1 cup warm water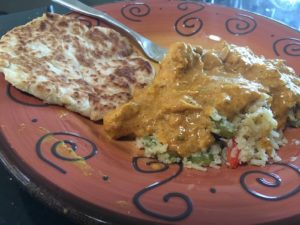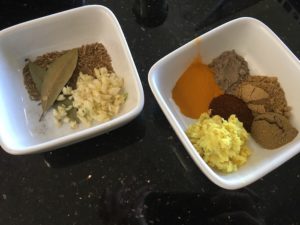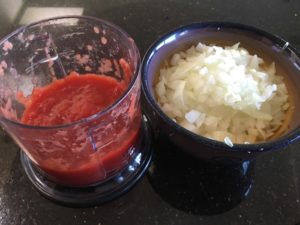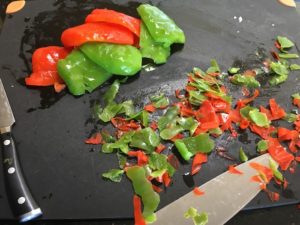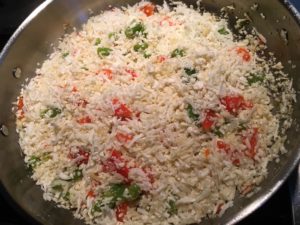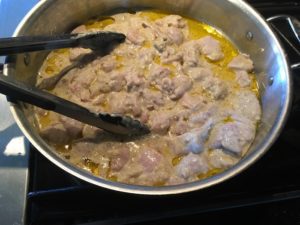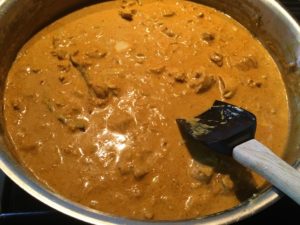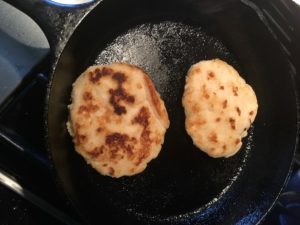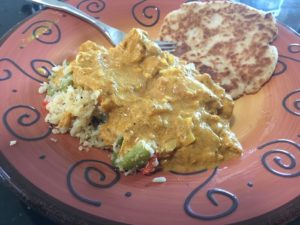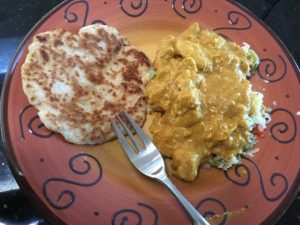 Don't forget to pig out keto style!