This meal is so good and is a perfect base for other style easy one pan dinners. Just change out some of the veggies for cheddar cheese cream sauce and you'll get Keto cheeseburger helper. It's amazing how cabbage and beef go so well together. I would say the cabbage reminds me of noodles and is definitely satisfying. It's a weekly favorite around here and goes nicely by its self, on top of mixed lettuce or on top of cauliflower rice! This very filling dinner idea is way to easy and delicious to not share. 
Share questions and comments below and I'll try to get back to you asap. Thank you!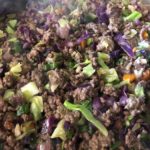 Print Recipe
Keto Beef Helper
American Hamburger Helper Keto Style!
Ingredients
2

Pounds

Beef

Cooking Oil/Bacon Fat

1

Big

Red onion

Chopped

1-2

Carrots

Chopped

1

Cups

Cabbage

Chopped

1

Cup

Red Cabbage

Chopped

4

Green Onions

Chopped

3

Green Peppers

Chopped

4

Clove

Garlic

Chopped

2

Tsp

Salt

2

Tsp

White Pepper

Cracked

Black Pepper

2

Tsp

Cayenne Pepper
Instructions
Over medium heat start sautéing the onions first for about 5 minutes before adding in the carrots.

Continue to sauté onions and carrots for a few minutes before adding in your beef.

Salt and pepper your meat as soon as you put it in your pan.

You can chop all the veggies up a head of time or you can cut them up as you go.

Chop up the cabbage to the size you want. Keep in mind the cabbage will shrink and cook down.

Add the chopped green onions, green peppers and garlic last.

I find it easier to chop as you go and you'll also use less dishes to do this;)

Continue to cook over medium heat for another 5-10 minutes or until done.