Put the rise back in your keto cupcakes with this delicious recipe! This recipe will make 12 big vanilla cupcakes. You will bake these at 325F for about 15-20 minutes. You will need to use a non-stick cupcake pan and also spray coconut oil or grease the wells with butter before adding the batter. I have tried paper cupcake liners and the cupcakes do stick, so it helps to spray even the liners if you want to use them.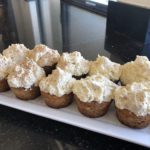 Print Recipe
Keto Cupcakes
Ingredients
What you need for the cake
Keto butter cream frosting
Instructions
Directions
Bake 325F for 15-20 minutes or until a toothpick inserted in the center comes out clean.

First, mix the eggs, sour cream, vanilla and sweetener until well combined using a blender or a whisk. 

Add the flour, baking powder, baking soda and gelatin.

The gelatin helps these cupcakes set after rising like regular flour does so I feel it's important to not leave it out.

Mix until just combined -- do not over-mix or the final texture will not be as cake-like.

Let the batter set for a minute while you get your pan ready. I found it easiest to spoon in the batter.

This batter will thicken up within just a few minutes.
For the frosting
Make sure butter and cream cheese is at room temperature.

The best way to keep this butter cream frosting from looking like cottage cheese is to blend them separately in different bowls first.

Blend the vanilla and monkfruit sweetener in with the cream cheese.

Once the butter is whipped up good add that to the cream cheese and same for the whipped heavy cream. Try not to over whip once they're all together.
Notes
The secrete to the batter not sticking is silicone cups. Save yourself the headache and get yourself some.