Want to surprise someone you know with a delicious keto-friendly ice cream cheese cake?! They won't even know it doesn't have sugar. No weird after taste and no insulin crash an hour later. Have kids that always want something sweet? Trying to wean yourself or someone you know off sugar? This is that sweet treat that will have you wondering why didn't I start this keto thing sooner and it is so easy to make that if you're not a cook this recipe will leave you feeling like a chef! Comment below and let me know what you think!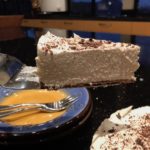 Print Recipe
Keto Ice Cream Cheese Cake
Ingredients
For The Ice cream filling
Instructions
Start the crust first then set aside. For the filling, start with the heavy cream and mix with a blender on high speed until stiff peaks form.

Add in the vanilla, cream cheese and Monkfruit sweetener. Continue to mix up for about five minutes until thick. Pour the filling over the crust and smooth out.

I sprinkled some Lily's dark chocolate on top but you could use just about anything you want. I used a 9 inch spring pan and will make 8 generous guilt-free servings.

Put in freezer for 2-4 of hours before serving. Store in freezer but make sure to take out 20 minutes prior to serving it up.