This is a must have casserole because it's one of the most delicious! This casserole has the best mouth feel, great body, so hearty and incredibly filling. It has an out of this world flavor and so satiating that you wont believe it's keto. I still have to pinch myself from time to time, to make sure that I'm not dreaming. If you want to wow your family or if you have a pot luck to go to, this dish is sure to bring down the house! Let me know what you think in the comments below….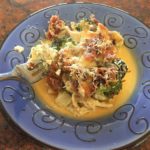 Print Recipe
The Ultimate Keto Casserole
Ingredients
1

Pound

Chicken Thighs

14

Oz

Bacon

1

Larg

Onion

Chopped

4-6

Garlic Cloves

Chopped

4

jalapenos

Chopped

1

Head

Cauliflower

Riced

1

Head

Broccoli

1

Cup

Heavy Cream

2

Cups

Parmesan

2.5

Cups

Cheddar Cheese

2

Tsp

Arrowroot

1.5

Mozzarella cheese

for the top

Extra parmesan for the top

A dash of salt and pepper
Instructions
Preheat oven to 350 degrees and bake for 35 minutes.

Cook the bacon!

Take your cauliflower and rice it up and put it at the bottom of your baking dish sprinkle with salt and pepper.

Take the rest of your veggies and chop up to the size you want and set aside. Put some avocado oil and gee about 2 tablespoons each in a sauce pan on medium heat, add the thighs and brown them.

Then take your broccoli and chop it up and layer it on top of the cauliflower rice and set aside.

Cook chicken and remove from pan. Add the chopped onions to that same pan and cook till translucent, then add garlic and jalapenos. Take the chicken and chop up or pull apart and add back to that pan.

For the sauce add the heavy cream, parmesan, cheddar cheese and arrowroot (thickener) to the chicken mixture. Pour the mixture evenly over the broccoli and rice.

Add the cooked bacon over the top of everything then sprinkle the mozzarella and more parmesan till it mostly covers the casserole. This is one beautiful casserole and everyone you know will want this recipe!