These cookies are Keto approved gluten free, sugar free and only full of healthy ingredients. You will love the texture of these delicious chewy cookies no crumble or hard cookies with this low carb recipe! This recipe was a huge hit not only did my kids love them but my husband is a big critic considering he loves gingerbread so if anyone could sniff out a fake it would be him. I couldn't keep him away from these cookies. This recipe will be a family favorite and you'll want to make them every year. I'm so excited to share this keto holiday treat with you all! I used molasses extract in this recipe. I have also made them without the molasses extract and trust me they are just as delicious with or without. That statement is coming from my husband the "critic."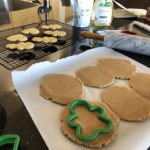 Print Recipe
Keto Gingerbread Cookies
Instructions
Directions
Pre-heat oven to 350. Baking time is 10-15 minutes depending on how thin or thick you desire.

Start with mixing the wet ingredients up.

In a separate bowl add all the dry ingredients.

Pour the dry ingredients to the wet and with a spoon mix until forms a dough.

Set the dough in the freezer for 15-30 minutes to chill the dough before rolling it out.

You can also leave dough in fridge over night. The dough is good in the fridge for about 5 days. So if you were to only bake some of the dough it's not a problem.
Notes
Tip with this recipe is to not transfer the cookies after you cut them out. It's much easier to roll the dough out cut the cookies and easily pull away the dough from in between the cookies. Then simply lay that set of cookies on the desired pan and pop in oven. Keep in mind the pan you'll use for the cookies and how you roll them out so you can get the most cookies on the pan. Another tip is to set the leftover dough in the freezer in between the bake times so that it makes it easier to work with.
Note: When buying the VitaFiber you'll get free shipping if you buy 3!