These keto candy apples are such a sweet treat around the holidays. This caramel works so well and is soft yet hardens up just enough to hold it's shape without harming your little ones teeth. This keto recipe grabs all the extra goodies like sprinkles, chopped up chocolate and other candies with no fuss. You're going to have so much fun making them loving that they're sugar free and that this caramel is not to hard nor too sticky. There is absolutely no browning anything with this recipe but the appearance, taste and texture will leave you wondering if it's real caramel. So make something sweet to celebrate the holidays that are just around the corner. Have fun and let me know what you think in the comments below!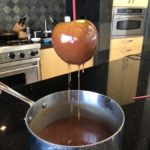 Print Recipe
Keto Caramel For Candy Apples
Instructions
First make your slurry with the arrowroot and either milk or heavy cream. You only need 3 tbsp of liquid to mix in arrowroot and set aside. You will put this in towards the end.

Over medium heat, add the butter and monk fruit sweetener (golden brown helps with color.)

Next add the Vitafiber and mix well. Let cook on medium heat for about ten minutes making sure all the sugar crystals have dissolved.

Add only the heavy cream at this step, not the slurry mixture.

Add the chocolate chips you have. I've used both regular chocolate and the caramel chocolate; both work great and does not take over the caramel flavor because you're only putting in a small amount. This will give you the color to make it look like caramel.

Turn heat to low and add in your slurry. Once mixed, turn heat back up for 5 minutes. Let the sauce get really hot to the point of making some small bubbles.

Remove from heat and wait a few minutes to cool just a bit before adding the caramel extract if you decide to add it.

The magic happens when it's cooling! It will be a perfect consistency when it's not hot to the touch. I had to heat the sauce back up couple times during the apple dipping and so I can tell you it reheats nicely.

Pro tip: add the sprinkles/candy toppings as soon as you pull the apple out of the caramel so it will stick. If you wait even just 10 seconds it will harden but not a problem just re-dunk the apple. If the apples are cold right out of the fridge it will only help the hardening of the caramel. The end product is a matte caramel not sticky to the touch. Makes for biting into them more fun and less messy too!
Notes
You can put the caramel in molds and freeze them to make keto caramel candies. After you take the candy out of the molds, let them sit at room temperature. If you leave them in the fridge they will stay gooey. You can also save to reheat and have a caramel sauce too!