Have you ever looked at what's in canned cream of mushroom soup? You should be quite horrified. I know I was. It's not only full of bad ingredients but it's also 16 carbs per cup! And because condensed cream of mushroom soup is a "secret ingredient" in so many quick holiday meal favorites, you know you wind up eating a lot more of it than you think. If I can help you make your own keto cream of mushroom soup, what's to stop you using it as the extra super secret ingredient in your own green bean casserole? Although, I'm not a fan of green beans so I'll make an asparagus casserole using this delicious low carb, keto cream of mushroom recipe. This recipe is less than 8 carbs per cup and is also thick just like what you'd see in a can of the fake cream of mushroom soup. Haha that's only funny because it's a true statement. This whole recipe makes a little over 46oz, or about 6 cups. It's thick almost like the concentrate coming directly out of the can, so if you are eating this as a soup then you'll need to add more broth or omit 1 Tbsp arrowroot! Hope you enjoy this healthy substitution in a few of your holiday recipes as much as we do!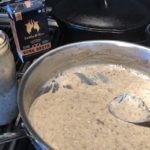 Print Recipe
Keto Cream of Mushroom Soup
Ingredients
What you need
4

Tbsp

Regular Butter

24

Oz

White mushrooms

3 carbs

1

Medium white onion chopped

Whole garlic bulb chopped

2 1/4

Cups of chicken broth

Kettle and Fire (2 carbs)

1

Cup

Heavy Cream

grass fed (16 carbs)

1/2

Cup

Whole Milk

grass fed (5 and a half carbs)

3

Tbsp

Arrowroot

20 carbs
Instructions
Melt the butter in a big pan before adding the chopped onions. Saute them until golden brown, but not caramelized.

Add the chopped mushrooms at that time and cook for about 15 minutes until all juices have been released.

Add the chopped garlic and continue to cook about 5 minutes giving time for the garlic to bloom.

Then add the broth. I used "Kettle and Fire" brand chicken bone broth with the lion's main mushrooms and I must say, I'll never use anything else for this recipe.

You'll want to blend up some of the mushrooms with a stick blender if you have one. If you don't have a stick blender simply remove half of the mushrooms and blend them up the old fashioned way before returning them to the pan. Or you can leave it chunky too! After all, you are the chef in your keto kitchen.

In a bowl, whisk the arrowroot, milk and heavy cream together before adding to the pan. Stir to combine.

Within a few minutes you'll have yourself the best cream of mushroom soup you've ever tasted.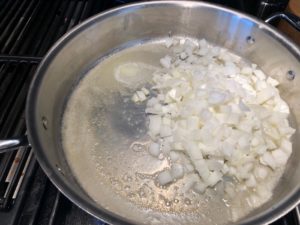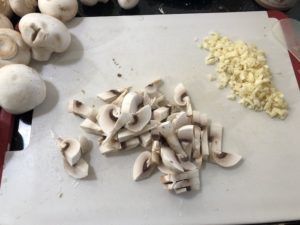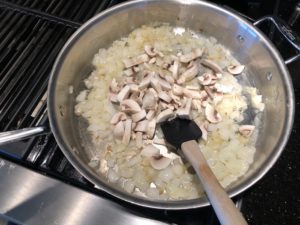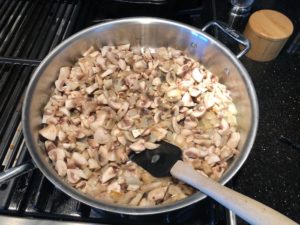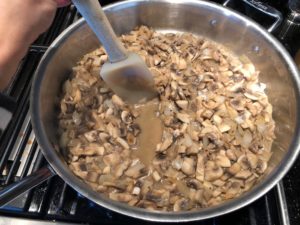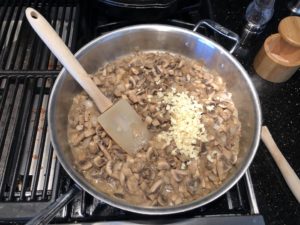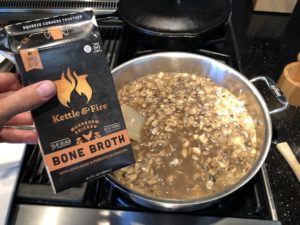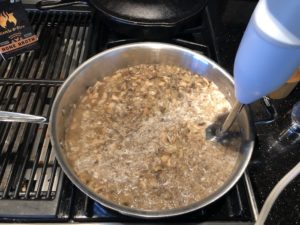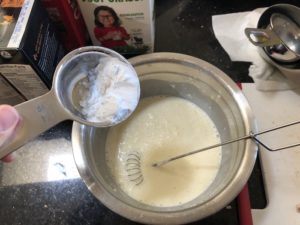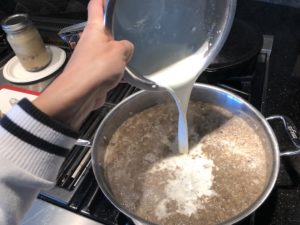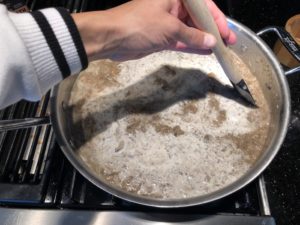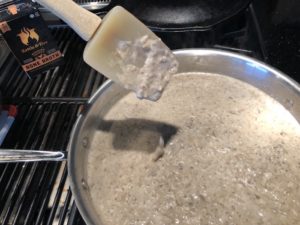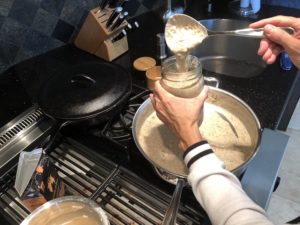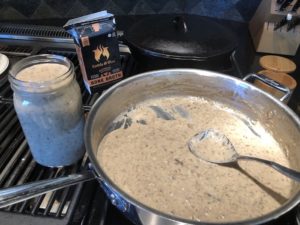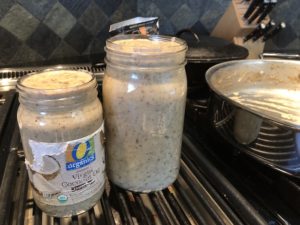 The KetoPig loves quality and healthy ingredients, and is pleased to be supported by Kettle and Fire! Some of the links in this post are affiliate links and buying
Kettle and Fire
products via these links helps support the site. Thank you!