Now here is a hearty chili with no need for beans in this low carb recipe! I must say it's very filling and extremely satisfying. I wasn't sure what it would be like at first. I was thinking maybe more bland but my suspicions subsided when I took my first bite. I love this chili and I love cauliflower, as long as you have enough spices to deliver on the promise of delicious chili-ness, of course.
All those healthy spices are on our side for the win! The cauliflower does its part in adding the bulk like beans would in any other chili recipe. The only difference in this keto chili is there is no soaking anything over night, no lectins, no over-load of carbs and no cooking for hours trying to make sure to kill off those awful lectins. Why have beans when you can have something as healthy, low carb and versatile as cauliflower?
Here's the trick. We want the cauliflower to take role of the beans in building the chili's texture, and that's all about how you chop it up and then cook it reasonably gently without over-stirring. You want to cut the cauliflower into pieces roughly a quarter-inch in size, so slightly larger than beans. The cauliflower will cook down and break up a bit in the crock pot, and when the chili is done you'll probably have people thinking for sure there are traditional beans in there somewhere. Don't go too far, however. If you make the cauliflower too small (minced), it'll break up entirely and you'll end up with something closer to a paste-like consistency when everything is done.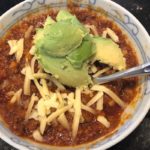 Print Recipe
Keto Chili
Instructions
Take out the crock pot and turn on high heat. Cook time is about 2 hours on high heat.

Mix the crushed tomatoes, tomato paste, veggie broth, chili powder, cumin, pepper and salt in the crock pot.

Clean and chop the cauliflower into small pieces and add them to sauce, then put the lid on.

Get the cauliflower started first so that by the time the meat is done the cauliflower will have cooked down.

In a big pan over medium heat melt some butter or bacon fat and saute' your chopped onions until golden brown before adding the grass fed beef.

Cook thoroughly then add the chopped garlic. Continue cooking for two to three minutes until the garlic is fragrant.

Transfer the meat to the top of the crockpot, covering the cauliflower and tomato sauce but DO NOT MIX yet. Cover with lid and cook in crock pot for two hours before coming back and stirring it.

You can eat it right away, or let it simmer for an another hour or two for even more complex flavor. As it cooks longer, the chili will get thicker as the cauliflower gets more soft.
Notes
I fit 3 pounds of meat and two small cauliflower heads or one really big cauliflower head and all the other ingredients in a 8 quart crock pot. I want to mention that I used organic crushed tomatoes that were blanched and deseeded. The brand I found also had PBA free lining so for me this was also a win. Find yourself the best ingredients and you'll have the tastiest results!