This is my favorite frosting! It holds together so well. I've even left some cookies out on the counter with the frosting on it for a couple day's and they still looked and tasted delicious! Most regular frosting recipes call for powdered sugar as their main ingredient, and you may think the first thing to try for a lower carb version would be an alternative powdered sweetener. However, I use the granulated because after a lot of experiments I've found it blends and tastes even better.
If you do decide to use powdered Monkfruit sweetener, start with 3 Tbsp for this recipe. It takes a light touch to get the right amount of sweetness with the powdered sweetener. I always start adding a little bit more, and then a little bit more, but it's very easy to go just a little too far and then there's an odd after taste. This is part of why I like the granulated sweetener better because it seems to avoid this. Powedered Monkfruit works great for whipping cream, but if you decide to use it in your frosting, proceed with caution.
I also do not recommend using heavy cream in this recipe because in my experience it has not worked well. It always curdled on me and I wind up with something like ultra-sweet cottage cheese.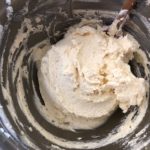 Print Recipe
Keto Butter Cream Frosting
Instructions
Directions

First you'll want to whip that grass fed butter until it is no longer yellow. Add the granulated sweetener and continue to whip for a couple of minutes. It helps get rid of granules so whip it thoroughly. When it seems smooth enough, add the cream cheese and vanilla. You'll be wowed at how much it looks and tastes like conventional frosting! Perfect for cakes and cookies!