I have not had cheese sticks since before keto but I have thought about them a lot recently and how to make them taste good without them turning into a blob. I thought about using fat head dough but that is a lot of cheese and so I did it the breaded way and it turned out amazing. Use whatever spices you want with it. I ran out of cheese sticks so I used cheese from the block of low-moisture part-skim mozzarella and it still worked but not as good as the mozzarella cheese sticks. If you try it out let me know how you liked it in the comments below!
What you will need
9 Mozzarella cheese sticks cut in half ( all the batter should make 18-20 sticks)
1/3 cup Flax seed
1/3 cup Almond Meal
1/2 cup Parmesan
2 tbsp Nutritional yeast
1 tsp Salt
2 Eggs
1/3 cup Blanched Almond Flour  (or  Coconut Flour
)
Directions
Mix up the flax seed, almond meal, parmesan, nutritional yeast and salt. Then in another bowl add just the blanched almond flour (or if your using coconut flour) and set aside. Than whip up your eggs really good. You will start with putting your cut up mozzarella sticks in the blanched almond flour (or coconut flour) and get them coated and than take one at a time and put in the eggs to coat and lastly put in bread mixture and coat. Place them out on baking sheet covered with parchment paper and put in oven at 425 degrees for about 9 minutes.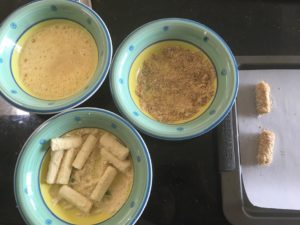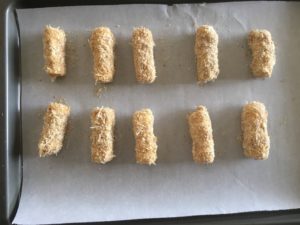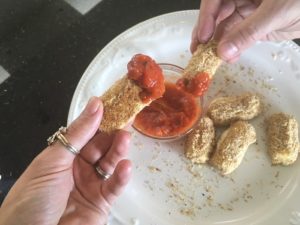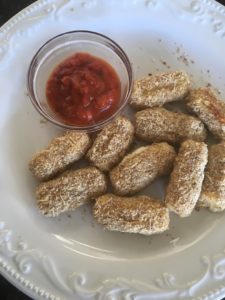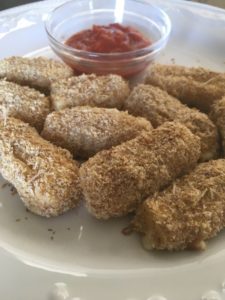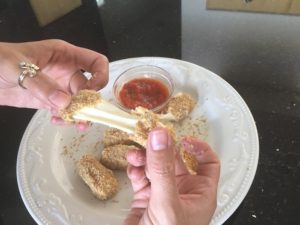 It helps to keep one hand for the wet part and one for the dry.
Don't forget to pig out keto style!