This little fruit snack is so good. It's a great way to surprise your kids at lunch time! It's much sweeter if you used organic berries without having to use any sugar or honey. I feel that you do not need apple juice to make these taste delicious! If you give this recipe a try let me know what you think in the comments below!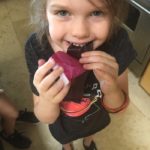 Print Recipe
Low carb Fruit Roll-Up
Ingredients
4

Cups

Mixed Berries

blueberries, raspberries, strawberries, and blackberries

1/2

Cup

Water

1

Tbsp

VitaFiber

Syrup

1

Tsp

Fresh Lemon Juice

1/4

Tsp

Lemon Zest
Instructions
Combine all of the ingredients in a saucepan over medium-high heat. Simmer for 20 minutes, until the berries have popped and some of the liquid has evaporated.

Pour the mixture into a blender, then carefully blend until smooth.

Line 2 rimmed baking trays with a SilPat or parchment paper, then pour half of the fruit mixture through a fine mesh sieve and onto the first tray and half onto the second. Use a spatula to lightly spread the mixture evenly across the baking sheet, to about 1/8 inch thick.

If you have a dehydrator with a fan in the back, these will only take about 3 hours on the high (150 degrees) setting. Without a fan, they'll take about 8-10 hours on 150 degrees. It takes about 4-5 hours in a convection oven.

You will know they're done when you touch them lightly with your finger and they are no longer sticky. If the edges get a little too brittle and dry, you can brush a tiny bit of water over it and will be good as new!
Notes
*If using frozen berries, omit the water and substitute 1/2 cup unsweetened apple sauce. Find original recipe here.