I made this recipe for a friend and I was honestly skeptical but to my surprise it was so much better then what I excepted! This vegan keto cream cookie cupcake recipe is so easy to make and is high in monounsaturated fats. It is so creamy with an ice cream-like texture and a pastry cookie crust. You wouldn't expect this delicious sweet treat to also be a vegan one!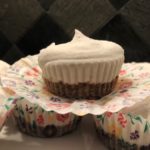 Print Recipe
Vegan Keto Cream Cookie Cupcake
Instructions
Pre-heat oven to 350F. In a bowl add almond meal, coconut flour, sweetener, cinnamon and other spices and mix it until well incorporated. Heat the butter and oil in microwave on 15 second intervals stirring in between making sure to not burn it. Cacao butter is hard at room tempter and doesn't melt easily so making sure to finely chop it before trying to heat it will help. Patience grasshopper.

The crust will bake for 10-15 minutes or until edges are golden brown and make sure to let it cool before putting the cream filling on top.

Put the nuts in a food processor/ninja with the nut milk and blend until smooth. Next add 1 scoop of protein powder and continue to blend, scraping the sides as you go. Place in freezer.

In a new bowl, start whipping the coconut cream that has been separated from the water. Add in the powdered sweetener and vanilla. Once you have all that whipped up, add the macadamia nut mix to the cream and whip it all up together. I did sprinkle in some extra cinnamon at this step because I love cinnamon.

For the last step, spoon the cream filling on top of the cookie crusts and put in the freezer. Wait approximately one hour for the filling to set firmly. This recipe made 12 cupcake treats.